Top 5 Muay Thai Training Training Centers in Thailand
The go-to resource for choosing your ideal martial arts training camp. Find all you need to know about the top training destinations and ways to elevate your skills & knowledge.
Discover Training Camps now
If you happen to have checked out our previous post on Muay Thai, you probably know that this Thai martial arts style is often referred to as " The Art of Eight Limbs".
Muay Thai is a vital part of Thailand's identity. It's not just a sport but a way of life. Some fighters support their families through participation. Also, many children grow up learning the art from a very young age, so it's not just something you'd appreciate from the sidelines. It is ingrained. The people of Thailand try to keep this tradition alive, and they are very proud of this culture.
If you are a fitness enthusiast, it is fairly easy to adapt to the demands of Muay Thai. Sometimes, you might have moments of doubt, especially during times of exhaustion thanks to the rigorous training, but pushing through these trials will help you to develop into a stronger person.
If you happen to be interested in taking up Muay Thai, there's certainly no better place to do so than Thailand!
Below, we've compiled our top 5 Muay Thai training camp centers for you to consider.
While Thailand is currently closed for foreign travelers due to Covid-19 restrictions, the information you find here will help you to get a head start on planning your dream Muay Thai training camp!
Note: BookMartialArts offers a flexible cancellation policy. Should you not be able to travel and train as scheduled, we'd be happy to help you to alter your booking with the same organizer or with a different organizer.
The less exaggerated version of Bangkok, Chiang Mai is a perfect place to start your fitness escapade. Santai Gym was opened in 2002 by trainers named Kru Do, Daodern, and Kru Pon, who are all former Pinsinchai gym fighters.
It has a strong team of experienced trainers that teach all levels of students, from beginners to professional fighters. Santai accepts students of all levels and works them to get them to the next level.
» Read more: Muay Thai Training in Thailand: What You Need to Know Before You Go
With a great location on Koh Tao, one of Trip Advisor's top island destination getaways for 2013, this fight camp offers a marked contrast to others in Asia. Offering a full western style gym Muay Thai, MMA, and traditional boxing training.
You will also be treated to daily Gladiator high-intensity fitness workouts, tasty nutritious meals served up by their onsite Hell's Kitchen restaurant and a great communal atmosphere at the dorm rooms, Monsoon Gym and Fight Club will help you achieve your workout goals – whatever they may be.
Though Superpro Samui is based in Koh Samui, one of Thailand's most popular travel destinations, the camp itself is tucked away down a quiet street.
Imagine training amongst tall coconut palm trees and lush jungle foliage – it is an ideal training landscape for practicing Muay Thai, MMA, and Fitness as it's located away from traffic noise and tourists.
You will undoubtedly find the peace and focus you need to deepen your Muay Thai skills and knowledge here.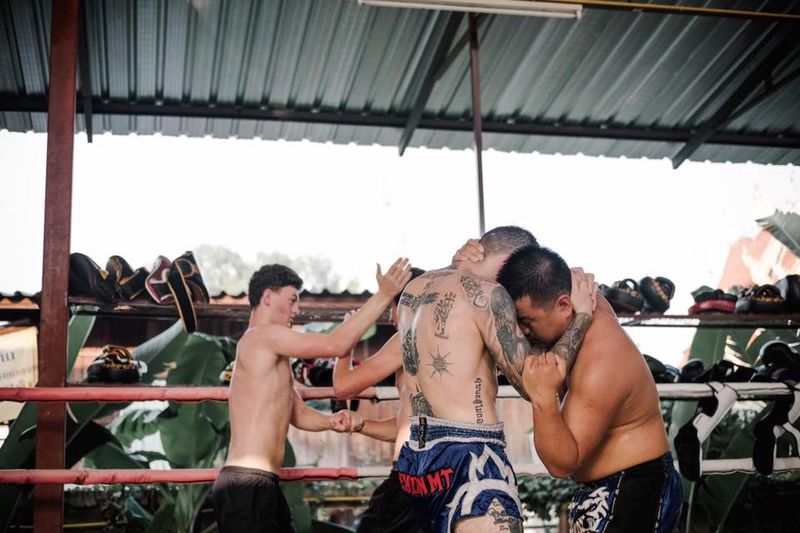 Also located in Chiang Mai, Gym Bangarang offers its guests a unique holiday experience. They offer training programs for virtually anyone, from beginners to professionals, taught by certified Muay Thai and boxing champions.
This training center focuses more on personalized training for small groups of people.
Just over an hour north of the international resort destination of Phuket, Combat 360X is located in the beautiful seaside town of Khao Lak.
The camp offers a large variety of training including Muay Thai, MMA, Boxing, Brazilian Jiu-Jitsu (BJJ), Grappling, Fitness/Cross Training, and yoga as well as having an onsite supplement and equipment shop to get you all geared up for your training!
» Read more: 5 Steps to Prepare for Your Muay Thai Training Camp
---
Now that you've got great choices to pick from, why not give it a try firsthand? We look forward to seeing you at a martial arts training camp in Thailand!