Top Affordable Martial Arts Training Camps Located All Over the Globe [Updated]
The go-to resource for choosing your ideal martial arts training camp. Find all you need to know about the top training destinations and ways to elevate your skills & knowledge.
Discover Training Camps now
Looking to begin your very own martial arts journey? Or are you seeking a way to improve your martial arts skills and techniques?
Whether you're a beginner or a professional martial artist, a training camp may just be what you should be signing up for!
In recent years, more and more people have become interested in martial arts training camps because they crave for more authentic training than their local gym or training center has to offer. They seek certified instructors that are not only able to teach them an arsenal of martial arts moves – but also to teach them a genuine martial arts practice.
That said, traveling abroad for martial arts training can certainly put a major dent in your bank account. Lucky for you, we are sharing a list of some of the most budget-friendly martial arts training camps available on our site. Don't miss out, be sure to check them out!
Note: BookMartialArts offers a flexible cancellation policy. Should you not be able to travel as scheduled, we'd be happy to help you to alter your booking with the same organizer or with a different organizer.
Image credit: Tianmeng Shaolin Kung Fu Academy
Dream of becoming a Chinese martial arts master someday? This 61 days & 60 nights long training camp package may just be the right fit for you.
Tianmeng Shaolin KungFu Academy is renowned for its reputation for having some of the best martial arts teachers in China. The great news is that they welcome students of all levels seeking all types of Kung Fu.
From Shaolin Kung Fu and Tai Chi to Wing Chun and Baji, you'll be sure to find a great teacher to learn from.
Located in the beautiful mountains of Shandong, Tianmeng Academy is also famous for its unique training in Meihua poles, a formerly highly guarded Kung Fu secret. If you are seeking to learn authentic Kung Fu, this is truly the place to be!
Accommodation: Private (single) room with shared bathroom.
Total Price: US$ 1337 OR US$ 22.2*/day
Image credit: Kingdom Fight Gym
Due to its elusive nature and rareness in the West, the art of Kun Khmer fighting is increasing in popularity.
This is a highly energetic and effective no non-sense fighting style that can help you develop your fighting abilities tremendously. If you're willing to walk down that path, this martial arts training camp right in the heart of Cambodia is the answer.
You'll get a month of dedicated training from certified experts, and you don't need to worry about your current skills. All levels are welcome.
Accommodation: Shared rooms
Total Price: US$ 584 OR US$ 20/ day
Image credit: Jaguar Escrima
If you're interested in training in an unconventional martial arts disciplines, Eskrima (Escrima) should be amongst your top picks! This non-classical Filipino martial arts style emphasizes quick reaction and improvisational defense.
With Jaguar Escrima's 14 days & 13 nights training camp, you'll be taught by Mike Garner, a martial arts instructor with over 30 years teaching Escrima, Muay Thai, Krav Maga, and Kickboxing.
Your lessons will take place in Sabang beach in Palawan, Philippines and will last about 4 hours per day (5 days a week). However, training is very much flexible and can be tailored to the capability and/or preference of each student. The majority of training will be spent on using Escrima modern weapons and to master the techniques of the disciplines. However, each session will also include conditioning and stretching.
Accommodation: Private rooms
Total Price: Starting at US$ 383 OR US$ 29.4/ day
Image credit: International Association of Boxing and Kickboxing Stars
Have you always wanted to become a real-life boxer? Boxing is a great way not only to practice self-defense skills but also to stay active and fit. With this 7-day training camp in Kiev, you can perfect your skills (or start learning, if you're a beginner).
All levels are welcome and the training camp offers you everything you need, from accommodation to 2 daily meals. This way, you will be free to focus on your training and the personalized advice sessions you will receive from instructors.
Accommodation: Private rooms
Total Price: US$ 587 OR US$ 83.8 / day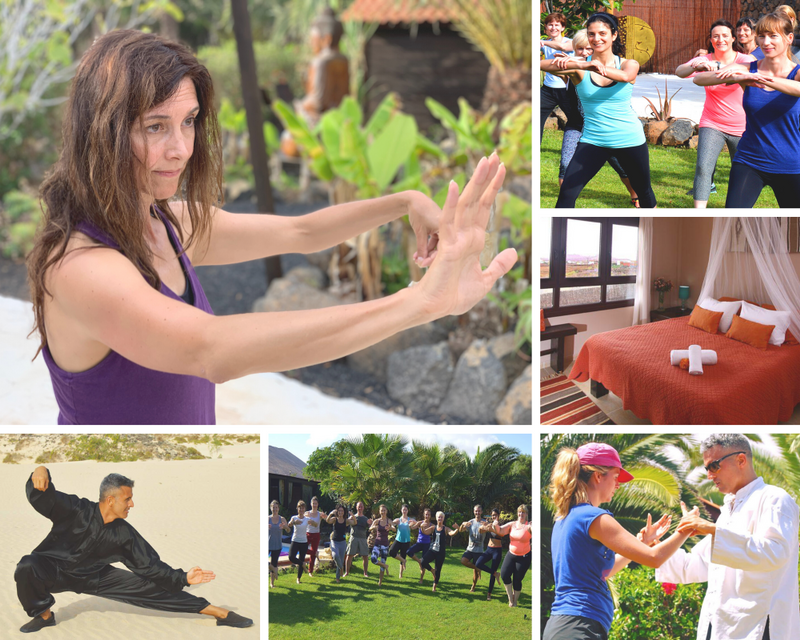 Image credit: Tai Chi Fuerteventura Training Retreat
Looking for a warmer climate to escape the cold winter months while training in Tai Chi at the same time? This 8-days Tai Chi and Qi Gong retreat in the Canary Islands is a dream come true.
In addition to the immersion in these 2 martial arts, you will also get to relax, visit the surroundings during the outdoors excursions, work on your motivation to continue the training after returning home.The dedicated instructors are there to make your stay as useful and welcoming as possible.
Accommodation: Private double rooms
Total Price: US$ 350 OR US$ 50/ day
Image credit: Muay Thai Battle Conquer Gym
Interested in martial arts but unsure which discipline you should pursue? Looking to use martial arts to be in your best shape yet? If so, we highly recommend for you to sign up for this 14 Days Wellness Package from Muay Thai Battle Conquer Gym!
Through this program, you will get a taste of what it's like to train in like a champ in Muay Thai. For those who are looking to get fit and rejuvenated, this program is focused on training and also includes cross-fit sessions and varied exercises in between training sessions!
One of the best 'perks' of this program is that it's located in Phetchabun, one of Thailand's most popular travel destinations. In your spare time, you'll be able to discover the gorgeous beaches and sample tasty dishes Thailand is so renowned for!
Accommodation: Private rooms (private double room)
Total Price: Starting at US$ 918 OR US$ 65.5/ day (standard private room)
Image credit: Songshan Shaolin Wushu Academy
If you've been looking to train in Kung Fu at its birthplace but don't have a whole lot of time to spend training, don't fret.
This world class 30 days and 29 nights Kung Fu training program, is the perfect solution. Authorized by The International Liaison Department of the original Shaolin Temple, Songshan Shaolin Wushu Academy is the only martial arts training center allowed to enroll and train foreign students at the China Shaolin Temple.
Here, you'll even get the rare opportunity to be trained by Shifu Shi Yan Jun, the 34th generation Shaolin warrior monk who is also the 17th generation disciple of Mei Hua Quan, the most ancient martial arts style in China!
Accommodation: Shared (shared bathroom) or private room (single or double with ensuite bathroom)
Total Price: Starting at US$ 937 (Basic shared room) OR US$ 31.2/day
Image credit: Honour Muay Thai
For those who are already training in Muay Thai and are looking to sharpen their skills, this 1-month training with the Honour Muay Thai group will surely get you there. During your training, you will be fully immersed in a true fight camp ambiance.
Aside from being able to further develop your arsenal of martial arts techniques, what makes this program unique is that you'll also be given an opportunity to fight in professional local competitions if you want to. This special training opportunity seeks to improve not only your strength and stamina but also your speed, agility, muscle endurance, and function. All this training help you to become a formidable fighter!
Accommodation: Shared dorm rooms
Total Price: Starting at US$ 420 OR US$14/ day
Image credit: Baligrass Retreats
This retreat in Bali is the perfect choice to get away from the tourist parts of the island to unwind, distress, and rejuvenate your body, mind, and soul.
Traditional Balinese Watukaru Yoga is one of the oldest yoga practices in the world and believes that without meditation and chanting, yoga is just an exercise/sport.
During this retreat, you'll focus on two daily yoga classes and meditation, as well as enjoy various twice-daily excursions and activities, such as rice farming and trekking. You'll also enjoy Balinese Thai Chi and martial arts classes.
In addition, you'll be pampered with spa treatments to melt away the tension in your body and enjoy daily healthy meals.
If you are looking for a gentle introduction to martial arts, this retreat could be the perfect choice for you.
Accommodation: Shared or private guesthouse room or homestay room.
Total Price: US$ 630 OR US$ 63/ day
Image credit: razilian Jiu Jitsu Camps
Train in Brazilian Jiu Jitsu on one of the most beautiful islands of Brazil. This is a small, intimate camp with both private and group classes that allows you to learn in a safe and friendly environment.
Offering a wide variety of health benefits, both for the mind and body, Brazilian Jiu Jitsu is a martial art that emphasizes on grappling methods and the utilization of submission.
During this camp, you can train every day as many times as you want (unlimited training). The group training classes are held three times per day from Monday to Saturday.
While you don't need to worry about the transfer from Hercílio Luz International Airport (FLN) airport, you'll have to allow for an additional budget for meals.
Accommodation: Dorms or private (double) room.
Total Price: US$ 1,100 OR US$ 73/ day
Image credit: punchcamp-spain & Fitnesscamp-spain
Train in Muay Thai to build yourself in shape, improve your skills with a professional coach, and enjoy a sunny and touristic experience, near the beach and mountains.
Every day, you'll train both outdoors and in a gym. You'll jog in the National Park of Albir, train on the beach in Calpe and in Benidorm Poniente, experience altitude training in the mountains, hike in the mountains at Ifach of Calpe, and more.
In addition, each day you'll either visit a national park, spend time on the beach, or go sightseeing. All these excursions are included in the package price. In between training courses, you may also use the spa at the camp or explore on your own.
Half-board meals (breakfast and lunch) are also included in the price. The meals use produce from the camp's organic farm.
You'll be training with Shahab, the head coach of the boxing camp. He is an active fighter in boxing and kickboxing, as well as an international coach.
Make sure to book your flight to Alicante–Elche Airport (ALC) as the transfer is also provided.
Accommodation: Private (single or double) room or shared (twin) room with en-suite bathroom, shared living room & kitchen
Total Price: US$ 1,207 OR US$ 134/ day
*Prices of training camps listed in this article are subjected to change without notice
---
Want to reap the benefits of joining a training camp without having to worry about travel expenses? Why not join an online martial arts training?