Boost Your Confidence with Muay Thai
The go-to resource for choosing your ideal martial arts training camp. Find all you need to know about the top training destinations and ways to elevate your skills & knowledge.
Discover Training Camps now
There are numerous "recipes for success." If you ask different people you'll get plenty of different answers. However, there will always be one special ingredient in every single one of those recipes.
That ingredient is confidence!
It doesn't really matter what your goals are. What matters is that you know what you want. But to be honest with you, you can dream about your goals and see them clear as day; if you don't have any self-confidence, you won't even be able to scratch the surface of it.
I believe self-confidence is a skill. And like most skills, it can be acquired and perfected. Don't worry if you don't have it right away. If you are persistent enough, it will be yours.
Luckily for you, this article will show you one method that will help you become confident 100%! That method is in fact a form of martial arts that you've probably heard of already – Muay Thai.
What is Muay Thai & how can it change your mindset?
For those of you who haven't watched a single Muay Thai fight, or who don't even know what Muay Thai is, this section will explain it all.
Muay Thai is a combat sport that's very similar to kickboxing. As you can see from the "Thai" part of its name, this martial art originates from Thailand. Muay Thai is their cultural martial art, to be exact. It was developed hundreds of years ago as a method that would serve the people for close combat.
This martial art literally makes your entire body a weapon. But what is a weapon without a powerful mind? Can a weapon be lethal without the correct mindset behind it? No!
That's exactly why Muay Thai represents a deadly tool to the ones who use it the correct way.
Actually, when you think of sports in general, all of them teach you how to control your thoughts or at least show you a method. A strong mind is an inevitable part of competitive sports, especially when it comes to combat sports because those athletes are fighting for their lives inside that ring.
» READ MORE: Muay Thai: "The Art of Eight Limbs"
So, how does Muay Thai, in particular, make you more confident? Here are some of the awesome ways in which Muay Thai can help boost your confidence:
Learn how to defend yourself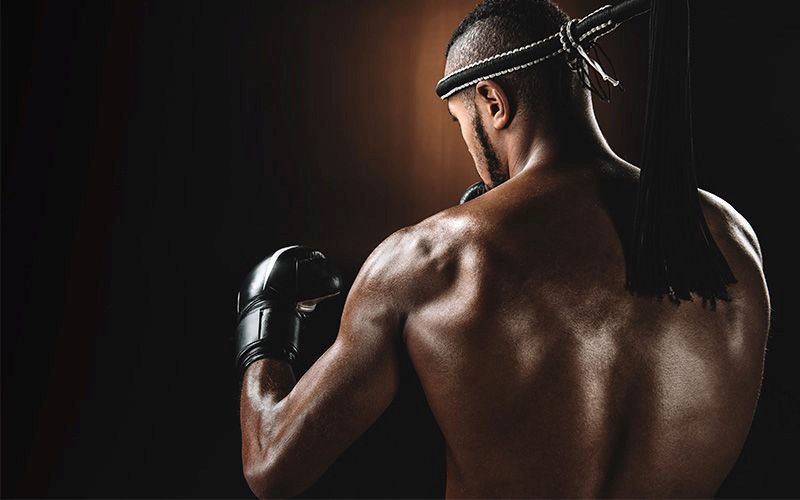 Is learning how to defend yourself connected to confidence? Well, medical research claims that there is a strong connection between the two. Actually, it says that around 95% of children who learned how to defend themselves have changed their mindset and boosted their self-esteem levels; and we are talking about kids here. Imagine the impact it could have on a grown-up!
Come to think of it, it makes perfect sense. Low self-esteem can be visible in many forms. One of them is overthinking everything. That habit almost always leads to fear of, well, everything.
Now, if you train and prepare for physical attacks, it will feel like you are preparing for anything that life might have in store for you, which will definitely make your mind that much tougher.
Make your body stronger & fitter
Let's be honest here. Most people with low self-esteem are ashamed of their bodies or at least have something that they consider a flaw. Whether that flaw is their weight, lack of muscle, bad posture, or something else, in their minds it sticks out and everyone judges them for it.
Well, on your journey through the sport of Muay Thai, you will change your body and mindset, thus becoming the best version of yourself.
You see, Muay Thai training sessions are hard. If you make Muay Thai one of your priorities and invest time and effort into it, those sessions will lead to the body you have always dreamed of.
All that you need to do is take things seriously and be consistent. It goes without saying that a good looking body helps build confidence.
You will look better, but most importantly, you will feel better. On top of that, you will feel better about yourself and that alone will give you a phenomenal confidence boost.
Meet like-minded people
This almost seems like a confidence cheat code.
Once you start your Muay Thai journey, you will meet many different people who were most likely exactly like you; or still are.
Feeling comfortable while being around other people is not something that an unconfident person can do. With that being said, just after a few training sessions, you will feel that much better about yourself as you have survived the fact that you just shared a word or two with a complete stranger. Yes, for people who lack confidence, this can feel like surviving. And guess what? You will survive!
Perform under pressure
Muay Thai sparring sessions will teach you the art of performing under pressure. You will have all eyes on you and you'll be constantly forced to defend yourself as your partner will be coming right at you.
This will create the "make it or break it" feeling. Of course, "breaking it" isn't an option. At first, these will feel difficult but after some time you will get used to the pressure and get comfortable.
This not only helps with Muay Thai training but also with real-life situations.
» READ MORE: 5 Steps to Prepare for a Muay Thai Camp in Thailand
The final verdict
Hopefully, at the end of this article, you know the impact that proper Muay Thai training can have on your mind and body. You can literally change your mindset.
So, why not start right away? As the discipline continues to grow in popularity, numerous Muay Thai training gyms are popping up all over the world.
---
Want to take your chances with Muay Thai and see how it transforms you? When the time is right, why not practice Muay Thai in Thailand, where it all began?